Project Management for
Sales Teams
The most successful sales teams encourage collaboration because this is the only way you can truly build a team and not just a group of high-performance sales reps. With a cohesive team, your reps will achieve more than they ever could individually.
Get your team onboard!
Nurture your leads
Sometimes your sales cycle is too long due to the number of people involved in decision-making process. Back-and-forth emails begin to get lost in everyone inboxes and your team is performing the same job over and over again.
With Winio you can involve all the stakeholders and decision-makers, and find one place to share information, documents, and discuss next steps to ensure everyone is in sync and get results faster.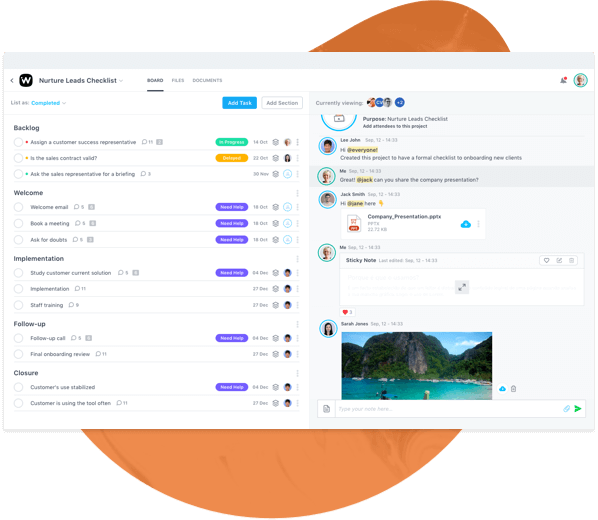 New Client onboarding
The key to a successful client-company relationship is to make sure both parts are on the same page from the start. Setting up a company-wide best practices for sales reps is the better way to convert current leads and maximize revenue from existing clients.
Winio helps your sales team collaborate to address the most common client frustrations to achieve a great client onboarding process to make the transition a smooth one.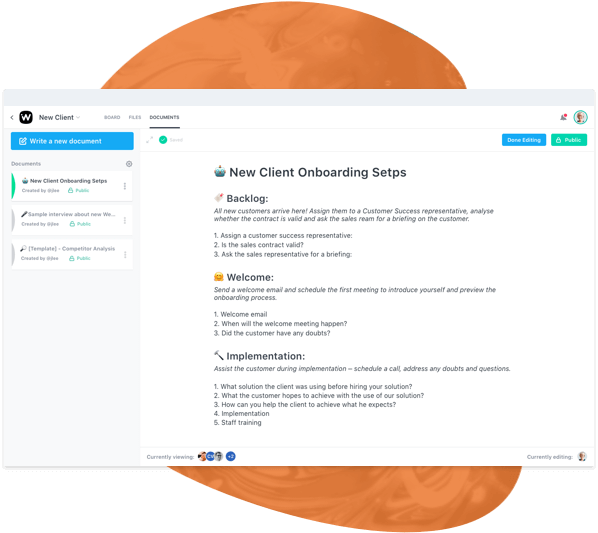 Celebrate Your Wins and Learn from Them
Closing deals is a challenge, and will always be, and this is way competitive people tend to fit well in sales teams. So, when you close a deal, celebrate with your teammates. But don't stop here, every win is an opportunity to learn and grow.
You can share what you've learned from the most recent with your teammates to help everyone close deals faster. Share insights, update your sales playbook or change your script template. Winio fits in your workflow, not the other way around.