Give your team continuous
time for focused work
Winio is an organized and flexible collaboration tool for teams that combines files, documents, tasks, and discussions to empower transparency and a peaceful way of work.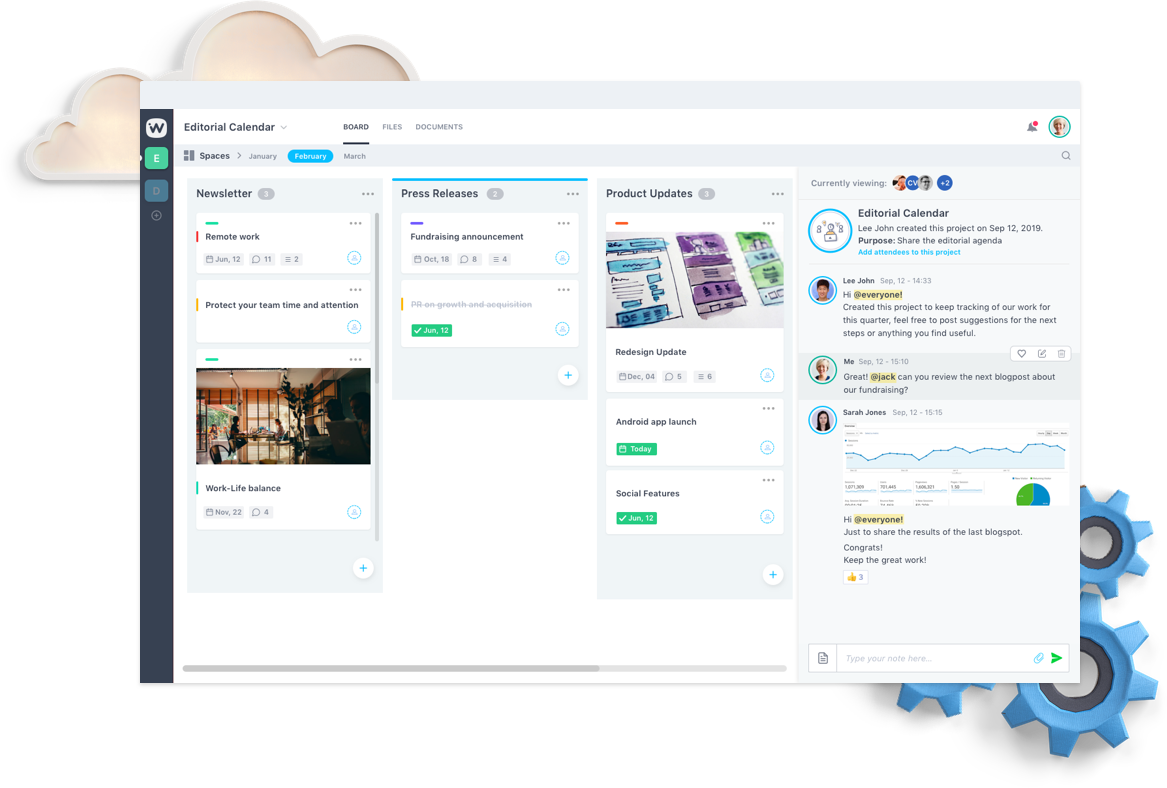 Communication
Real context for your conversations
Your privacy matters
All your messages are encrypted and can only be seen by the people involved in the conversation.
Never lose a conversation
We keep all your conversations history in case you ever need to check what has been discussed.
Highlight important notes
Some messages deserve more attention. Winio gives you a flexible way to capture ideas and share meeting notes with your team.
@Mention a teammate to call his attention
@mention someone to get quick feedback without the need of back and forth email.
Tasks
Small tasks to solve big problems
Clarify what needs to be done
Comment directly in tasks to keep conversations actionable and provide extra insights about what needs to be done.
Let your teammates know what to do
Easily assign tasks to your teammates, so everyone knows who's responsible.
Visually organize your tasks
Create sections and order your to-do lists to have a better visual organization of your work.
Easily visualize your project progress
Tasks statistics allows you to track projects progress over time and helps you understand when there's the need of an extra pair of hands.
Get an overview of your work accross projects
See and manage all tasks assigned to you from every project in a single place.
Add more context to your tasks
Visually track the current status of a task, know exactly where it stands, which tasks need attention, and what's next in the pipeline.
Sometimes order matters
Teams with collaborative mindsets can easily see what tasks they're waiting on from others, and know when to get started on their work.
Files
Keep every file close to the project
Preview files before download
Quickly find the files you need and preview them in the browser without the need of download a copy.
Seamlessly share your files
Stop wasting time searching for lost files when you can add them directly to your project and ensure everyone is working on the last version.
Documents
Collaborate on content and knowledge
Format content
Quickly format text to keep your documents meaningful and easy to read.
Control visibility
Make the document private when you need to write things down for yourself or make the document public to share with everyone your ideas.
Live sharing
Watch live when your teammates are writing on a document to easily review and approve their work.
Projects
Bring your whole team together
Targeted notifications
Don't get annoyed with noisy notifications. Always be on top of everything with tailor made notifications for you.
Include your clients in the loop
Invite clients to your projects without forcing them to create an account.
Easily recover deleted projects
You can always recover accidentally deleted projects as if it had never happened.
Attend outside projects
Attend projects created by other teams without the need of leaving yours.